Well, it all started with Pinterest !!
I came across this picture of cute PJ bottoms. The pattern is from Sweden, so I had to download the English version!! Yet some of the instructions are still a bit odd.
I am going to forgo the pockets also and it calls for a zipper in the back-we will see if that happens !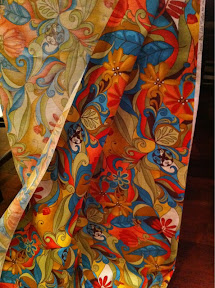 The cotton fabric I choose (from a San Diego Trip) is Moda and you can see, Very Bright ;-))
The green swirly material is the accent for Cuff and Waistband.
Using some of the Paperweights that my Dear Mom gave me. She is also the one that taught me to use them when cutting out patterns to keep my fabric and thin paper patterns from running away from me!
I love my new little Pin Cushion made by a dear friend ;-)
- Posted using BlogPress from my iPhone