The color work Wrist Warmers are moving slowly, just now starting the thumb. Well there are two reasons that these are not getting done :::::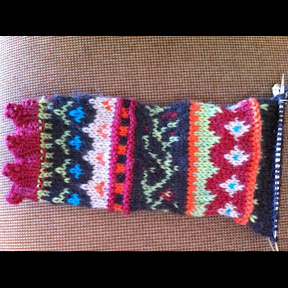 Here is the first reason....
Once I finished Konrad's Scarf, I had to have one too! Mine is done in Baby Alpaca and has tiny gold flecks in it. This is so soft and heavenly to wear ;-)
Now reason #2: Someone wanted a white Beanie Hat!!
Check out the crown! It was very easy and fun to make this hat.
You will have to excuse all the funny business going on in the background ;-)
Now I must get back to my sewing to finish projects for the upcoming Bazaar, December 2
nd
and 3rd. Come check it out in Star!
- Posted using
BlogPress
from my iPhone