These will growing up to be a pair of fingerless gloves or arm warmers. I gave you a picture with and without flash, you get to decide which colors you like best! Hehe
Notice the cute bobbles on the edge? Those were not fun to start with but did turn out great!
Here is the magazine photo, fun huh!! The pattern is from Interweave Knits Fall 2007.
Now my question to you is 'How do I post this on Pinterest?'
Below is the dark grey and silver scarf that I knit for my son for his 20th Birthday! Loved the easy 4 row pattern that I found on ravelry.
He Likes to Model also ;-))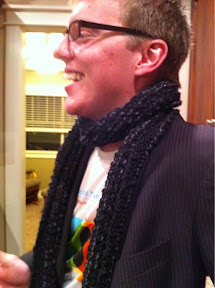 - Posted using BlogPress from my iPhone